Teaching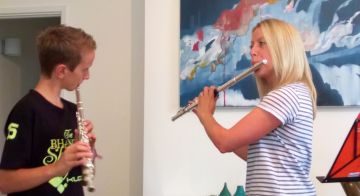 I began teaching the flute at the age of 16 to beginner flute players in my village in Dublin. I have always enjoyed teaching and it is great to hear the developments in a person's playing week after week and also see their confidence and enjoyment in their music making grow!
I am happy to teach students of all ages and ability, from complete beginner to Diploma and beyond. I am familiar with Associated Board of Music and Trinity Guildhall exam Syllabi but if exams are not for you … no problem … I believe learning the flute should be fun as well as a challenge!
Please have a look at 'Upcoming Events' to see dates for workshop and masterclass courses I will be running in Devon and Somerset over the next few months.
Private lessons can also be arranged – lessons take place at my home in central Exeter, Devon
or I can travel to your home (travel costs will be added to my hourly rate).
'Candice is a fantastic and lovely flute teacher and has taught me since I was 9 or 10. She is patient, informative, kind and efficient as well as easy to get along with. She is very friendly, encouraging and intelligent! She really motivates me but doesn't put me under pressure.'
LEAH, AGED 16


'Candice has taught my daughter from primary school age right up to Year 11 (age 16). She has brought her forward from approximately Grade 3 level through to Grade 8 and then on to take her Diploma. Candice is an absolute professional at what she does and is also a lovely person – friendly, approachable and a delight to talk to. She is adaptable to any age student, and brings a level of expertise in expressive flute playing and technique which is both exceptional and very rare. Candice has taught Leah how to play very beautifully and to an advanced standard, whilst all the time being consistently encouraging and nice to her. She has really built her confidence.'
SUE WING, PARENT